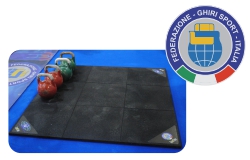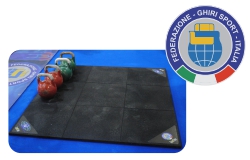 Kettlebell Training Platform
From €427,00
VAT incl. 22%
Kettlebell Training Platform
Description
Brand
Technical Information
Cleaning and Maintenance
Description
MAGNITUDO KS1 and KXS are the specific platforms for the kettlebell lifting, developed with the Italian Kettlebell Federation (Federazione Ghiri Sport Italia, FGSI) for the World Cup in Turin. The platforms have been developed with DoTile Fit technology and 100% made-in-Italy quality, to give the maximum support to the atheletes during their best performances. KS1 and KXS platform are composed by a double layer: a rigid wooden base and an high-density rubber surface, designed to give the right grip to the athlete and in the meantime it guarantees the absorption of noise and vibrations due to the impacts of heavy weights with the ground, protecting the underneath surface and the kettlebell itself.
| | |
| --- | --- |
| BRAND | DoTile Fit |
| PLATFORM DIMENSIONS | 1500 x 1500 mm | 1000 x 1000 mm |
| THICKNESS | 30 mm |
| WEIGHT | 100 kg (1500 x 1500 mm) | 50 kg (1000 x 1000 mm) |
| ASPECT | Platform composed by multilayer surface, with a wooden base (thickness 20mm) and an high-density rubber surface (thickness 10mm) |
| DENSITY | About 1200 Kg/m3 (high-density rubber surface) |
| BACTERIAL IMMUNITY | resistant to mold and bacteria according to the standard UNI 11021:2002 |
| COLD RESISTANCE | -50°C |
| HOT RESISTANCE | +100°C |
| INSTALLATION | Recommended on a flat surface (instructions on installation are available on the link below) |
| CHEMICAL AGENTS RESISTANCE | Alkali resistant, good acid resistance |
| COMPOSITION | Rubber granule, glue without solvent, wooden panel |
Tecnical Sheet – DoTile Fit MAGNITUDO KS1-KXS
The product doesn't require special maintenance, it is possible to wash the surface with normal floor cleaners or sanitizing products. In case of contact with oil or other liquid substances, remove and clean promptly. Cleaning with soap and warm water allows to remove oily substances. The common cleaning methods are the use of a broom or vacuum cleaner to remove dust and dirt and the use of a wet cloth or a mop for the surface cleaning.